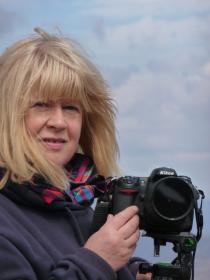 Based in North Wales, I have been working as a professional photograher and tutor for over 25 years.
After graduating with a batchelor of Arts in London followed by a Post- graduate Certificate of Education , I have travelled extensively , both nationaly and worldwide, working for many different clients, amongst them the Irish, Welsh, Scottish and British Tourist Boards, and have been widely published, including The Sunday Times magazine.
My enduring passion for landscape photography has brought me back again to Snowdonia where I now live and teach.
Arts Counncil of Great Britain project: : 'Me,myself' Photographers Gallery, London.
'Land of my fathers' / Bangor University, North Wales
EXHIBITIONS
Journey Through Landscape / Hendre Hall June 2008
Open Studios / The Barics August 2008
Electric Mountain Llanberis Sept /Oct2009
Trigonos Gallery Nantlle Sept 2011
Venue CYMRU July 2012
Helfagelf / Open Studios - Oriel Bwty Lleu Caernarfon Sept 2012
Ludlow Castle Oct 19 /20 /21 2012
LINKS
http://www.synergydigital.co.uk/ludlowcastle2012.html
http://www.beckfordfineart.co.uk/artists/
http://snowdoniaphotojournalbyjanchipps.blogspot.co.uk/
http://www.gwyneddgreadigol.com/en/directory/photography/
http://www.helfagelf.co.uk/en/artists/jan-chipps
http://www.snogonline.co.uk/articles/september-enews-from-trigonos
http://www.roadscholar.org/n/program/instructors.aspx?dID=1-5TB2GX